An irregular or abnormal heartbeat leads to palpitations. Another name for palpitation is cardiac arrhythmia. It feels like the heart is fluttering or beating too slowly or too fast and it can last from a few minutes to a few hours.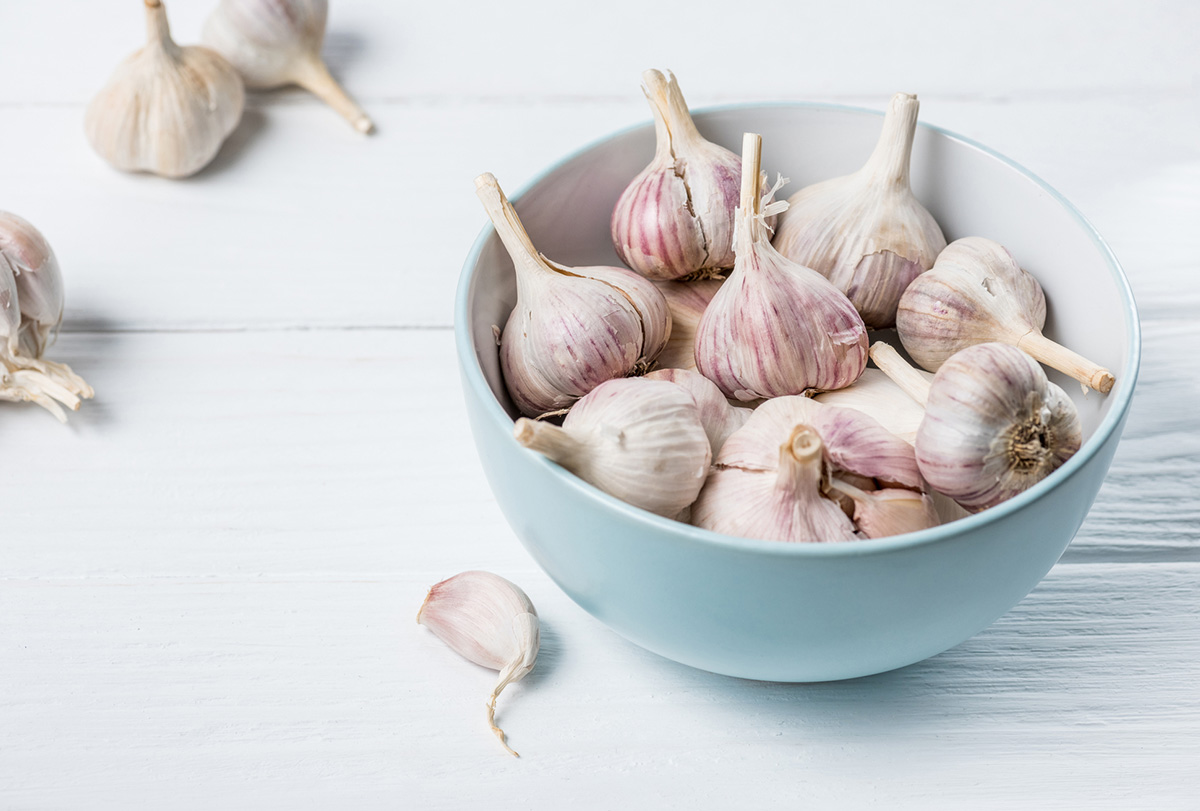 Palpitations are a common occurrence in many people, although they may be unpleasant to experience. They might be a sign of heart disease or can occur due to a number of other factors such as low blood sugar and hormonal issues. (1)
Home Remedies for Palpitations
The following natural remedies can help control and relieve heart palpitations.
1. Incorporate garlic in your diet
Garlic (Allium sativum) is an herb that has been used in many traditional systems of medicine such as Indian and Iranian medicine. It contains allicin, a compound that has cardioprotective effects.
Animal studies have shown that garlic extract has a calming effect on the heart by stabilizing the electrical activity of the heart and thus lowering palpitations. (2)(3)
You can include garlic in your regular cooking as an additive to soups, gravies, and curries. You can also take garlic capsules after consulting your doctor.
2. Consume saffron
Saffron (Crocus sativus) has long been used as a flavoring agent in Eastern cuisine. In traditional medicine, it is used as a cardioprotective agent and for the treatment of heart palpitations.
Studies on rats have shown that saffron administration at a dosage of 100 mg/kg/day has a protective effect against palpitations. The protective effect of saffron may be attributed to its inhibitory effect on calcium channels. (4)
You can add saffron to your sweets and desserts. You can also drink it as a tea by soaking 5–7 strands of saffron in hot water for 10 minutes and drinking up the saffron-enriched water on an empty stomach first thing in the morning.
3. Try using ginger
Traditional Chinese medicine has used ginger (Zingiber officinale) for its cardioprotective effects as an ingredient in the formulation of Zhingancao. (2)
A 2018 study has reported the protective effect of ginger extract on porcine coronary artery by inhibiting the chemicals that cause cardiac palpitations. (5)
You can add ginger to your soups, curries, and gravies. You can also have ginger in the form of tea by adding some cut ginger to water, boiling it, and straining the liquid to obtain ginger tea. Add a dash of honey to the tea and drink it twice a day.
4. Give arjuna herb a try
Arjuna (Terminalia arjuna) is an herb that is used in traditional Indian Ayurvedic medicine since ancient times. (6)
Arjuna contains many bioactive compounds, and the organic extract of the plant has a cardioprotective effect and is recommended in the treatment of palpitations. (7)
5. Consume Guduchi herb
Guduchi (Tinospora cordifolia), also known as giloya, which means elixir, protects one from old age. It has been widely used in the Indian traditional system of medicine, Ayurveda, on account of its many medicinal properties.
Studies on rats have shown that the alcoholic extract of T. cordifolia has cardioprotective effects. The cardioprotective effects of this herb may be attributed to its antioxidant property and its ability to act as a calcium channel blocker. (8)
6. Add cinnamon to your meals
Cinnamon is a spice extracted from the bark of the Cinnamomum plant, which is native to China, India, and Southeast Asia. It is widely used as a spice in regular Indian cuisine.
Cinnamon has also been used in traditional medicine to treat several ailments such as bronchitis, diabetes, and appetite loss.
In recent times the cardioprotective effects of cinnamon have been recognized, and animal studies have shown its ability to control palpitations. In a review paper published in 2022, its cardioprotective ability has been attributed to its antioxidant properties and its ability to modulate the ionic channels and electrical activity of the heart. (9)
You can take cinnamon as tea by boiling half a teaspoon of cinnamon powder in water, straining the liquid, and adding honey to it. Drink this brew twice a day. Alternatively, you can add a pinch of cinnamon powder to your cup of tea, which you drink in the morning and evening.
You can also add cinnamon to your regular cooking to flavor your soups, curries, and gravies.
7. Use Hawthorn or thorn apple
Hawthorn is a medicinal plant widely present in Europe, North America, and North Africa. Almost all parts of this herb are rich in bioactive compounds, making it a popular herb.
Cardioprotective activity is among its many health benefits. A study conducted in 2016 reported a protective effect of the alcoholic extract of this plant against palpitations induced by digoxin in Wistar rats. (10)
8. Try using valerian or garden heliotrope plant
Valerian is a plant with accented leaves, native to Europe and West Asia. A total of 150 bioactive compounds have been identified in valerian, making it a much sought-after medicinal herb.
It has cardioprotective and anti-arrhythmic activities because of its ability to modulate the activity of the ionic channels and electrical activity of the heart, as reported in a 2015 review paper. (11)
9. Use lemon balm
Lemon balm (Melissa officinalis) is a plant of the mint family, has lemon-scented leaves, and is native to South Central Europe, the Mediterranean Basin, Iran, and Central Asia. It has been used in traditional Iranian medicine for the treatment of palpitations.
A 2015 study conducted on human volunteers using an aqueous extract of the leaves of M. officinalis for over 14 days reported a significant reduction in the frequency of palpitation episodes. (12)
10. Consume grapes and grape products
Grapes and grape seeds are rich in resveratrol, a polyphenol that has anti-arrhythmic activity. Animal studies have conclusively demonstrated the ability of resveratrol, grapes, and grape products in preventing palpitations. (13)
11. Try cold stimulation techniques
New research studies suggest that cold stimulation in the facial and neck region may help reduce stress and arrhythmia. Cooling the nasal area and the forehead can stimulate the vagus nerve (a major nerve that connects the brain to the heart) and can help reduce heart rate. (14)
You can achieve this by applying an ice pack wrapped in a towel to your face.
12. Relaxation techniques can help
Relaxation therapy helps decrease pain, anxiety, stress, and depression. One of the major causes of irregular heartbeat and heart palpitations is chronic stress or anxiety.
Many doctors suggest meditation, yoga, and deep breathing exercises to relieve stress and calm your nerves.
Causes Responsible for Heart Palpitations
Palpitations may be caused by any of the following conditions: (15)
Hormonal imbalances
Anemia
An overactive thyroid (hyperthyroidism)
Stress and anxiety
Electrolyte imbalance
Low blood sugar
Excessive intake of caffeine, nicotine, or alcohol
Use of drugs such as cocaine and marijuana
Being prone to panic attacks while pregnant
Palpitations may be sometimes accompanied by other symptoms such as dizziness, ringing in the ears, heaviness in the chest and throat, and blurred vision. If such symptoms persist or occur frequently, there may be some other underlying pathology, in which case consult your doctor.
In most cases, however, palpitations resolve on their own and can be controlled by dietary and lifestyle changes. Moreover, some traditional home remedies are useful in controlling palpitations and these are outlined in the following sections. Read on to know more about them.
Additional Tips to Deal With Heart Palpitations
Increase your intake of fruits and green leafy vegetables.
Consume magnesium-rich foods such as bananas, kiwis, avocados, and kale.
Limit your intake of alcohol and caffeine.
Keep yourself hydrated as dehydration can increase the risk of palpitations.
Avoid stressful situations.
Get at least 6–7 hours of sleep daily.
Exercise for at least 20 minutes daily.
Most-Asked Questions About Heart Palpitations
What should I do if I experience palpitations?
To avoid palpitations, try meditation, exercise, yoga, Tai chi, or other stress-busting activities.
Breathing exercises or deep breathing is also highly beneficial. Sit quietly with a calm mind and close your eyes. Moreover, avoid stressful situations.
What is the best sleeping position for heart palpitations?
Generally, sleeping on your left side is best for your health.
What are warning signs of palpitations?
Warning signs of heart palpitations include:
Lightheadedness or feeling dizzy
Sudden onset of irregular heart rhythms
Heart rate higher than 120 beats/min
Family history of sudden heart failure or heart disease
What investigations are ordered by doctors if I have palpitations?
The following tests are done to investigate the cause of heart diseases: 
Your doctor may suggest more tests based on your medical history and symptoms.
Final Word
Heart palpitations are usually not considered serious unless you have an underlying heart condition. Palpitations can be managed or treated by adopting a healthy lifestyle, which includes regular exercise, the practice of deep breathing, yogic exercises, and avoiding stressful situations.
Was this article helpful?