Everyone experiences some degree of hair fall every day that generally goes unnoticed. It is a normal part of the hair cycle where new hair strands are formed continuously and old ones are shed daily.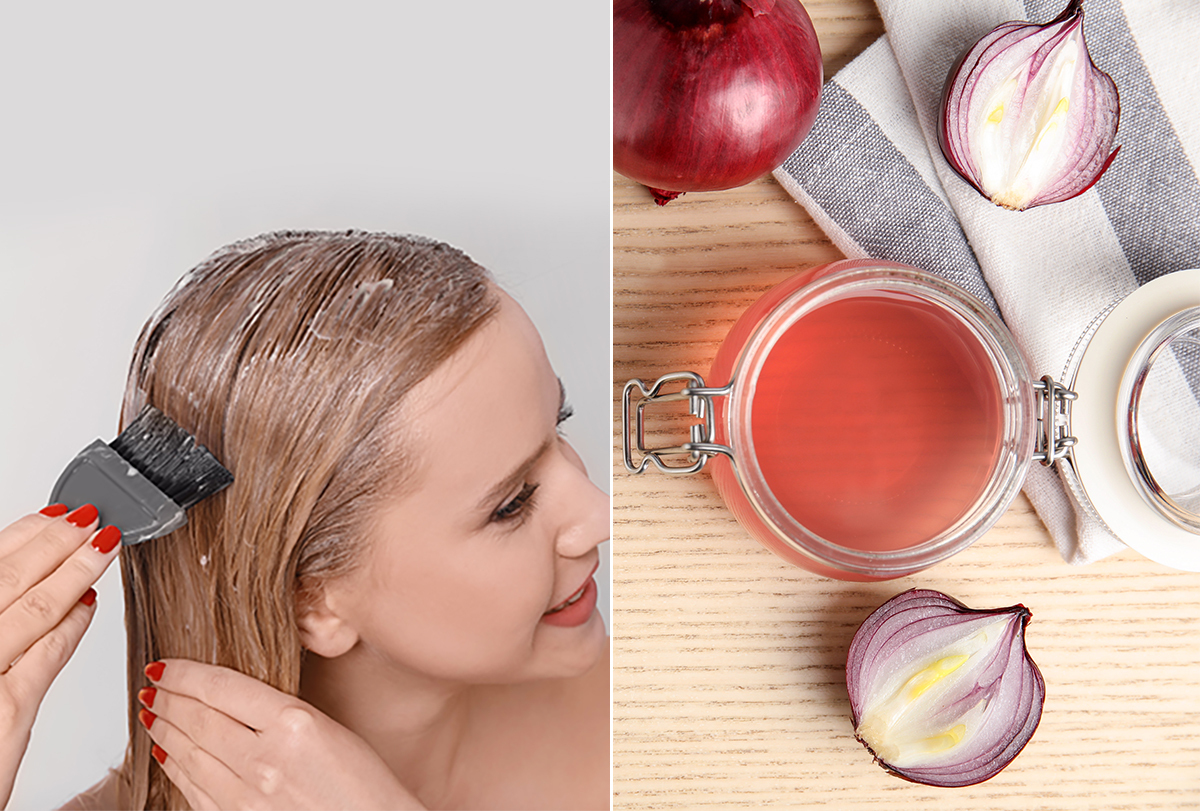 Hair fall becomes a problem when it is more than what your hair cycle can make up for. Over time, excessive hair loss may lead to bald patches, or alopecia, in people of all age groups and gender.
Hair breakage reflects poorly on your health and aside from being a cosmetic concern, it can also lead to mental stress by adversely affecting your self-image.
Onion Juice for Hair Fall
Here are some easy ways and home remedies to use onion juice topically to stop hair fall.
1. Direct application of onion juice
Onion juice can be directly applied to your scalp and hair, as it is fairly mild and unlikely to cause any irritation. The liquid gets readily absorbed to provide deep nourishment down to the root of your hair.
How to use:
Peel the onion and cut it into small pieces.
Add these pieces to a juicer or use a garlic press to extract their juice.
Apply the juice to your hair using your fingers, and massage it gently onto the scalp in circular movements. Massaging your scalp improves blood circulation and stimulates the hair follicles.
Leave the onion juice in your hair for a minimum of 15 minutes or overnight and wash it off in the morning.
Wash your hair with a shampoo of your choice. If you want to save labor, you can add onion juice directly into your shampoo and make it a part of your hair wash routine.
Note: Onion juice has a watery consistency and can run into your eyes if applied directly to the hairline. To avoid irritating your eyes, apply the juice to the crown of your head and massage it outward into the surrounding scalp area covering your hairline.
You can also mix onion juice with coconut oil as it's considered one of the best home remedies to grow your hair fast and naturally. Some internet users have even claimed that it helped them to regrow their hair.
2. Onion juice and honey mask treatment
Follow this easy recipe to make your own natural hair loss mask treatment at home.
Ingredients:
One onion
1–2 tbsp raw honey
Essential oil of your choice (optional)
How to make:
After peeling the onion skin, cut the onion into small pieces and blend them to a paste-like consistency.
Strain the onion pulp or simply press it with a spoon and collect its juice in a bowl.
Add 1–2 tablespoons of honey to the onion juice.
If you want, you can add any essential oil of your choice to this mixture. Different essential oils provide additional benefits to your hair health in different ways.
Combine the ingredients well.
How to use:
Apply the mask all over your scalp, paying special attention to the bald areas and receding hairline.
Use a shower cap to cover your head and allow the treatment to work.
Leave this mask in your hair for 30 minutes to overnight.
Rinse it out with your regular shampoo.
Note: This treatment may take some time to provide any noticeable improvement. Multiple applications for a few months may be needed.
Review the results after a couple of months or so and see if there are signs of any new hair growth or if your hair loss problem has reduced.
Also, check don't forget to check for any side effects like dandruff or itching. If you notice any side effects then stop its application immediately.
Did you know: Many people drink onion juice along with honey considering that it's good for weight loss. However, there is no scientific evidence behind this remedy.
Tips:
Chopping onion is a hassle as it releases pungent fumes that sting the eye and trigger the tear glands. To prevent your eyes from watering, keep the onion in the freezer for a good 15 minutes before chopping it.
You can grate the onion instead of blending or pressing it. Grated onion can be passed through a cheesecloth or cotton cloth to separate its juice. You can also use an electric juicer for this purpose.
Raw red onions are known for their pungent and strong odor that can linger in your hair even after shampooing. This can be avoided by adding a few drops of fragrant oils, such as rosemary, lavender, or peppermint oil, to the mask. Doing so will not only promote better hair growth but also diminish the strong onion stink.
Adding lemon juice and rose water to your hair mask can also reduce the onion smell to some extent.
You can also mix castor oil with onion juice as it helps to grow your hair and maintains hair health.
The Science Behind the Hair Fall Reducing Properties of Onions
Hair strands are made up of keratin, which is a fibrous protein composed of sulfur-containing amino acids. (2) Sulfur is important for the production and maintenance of essential hair proteins such as collagen and keratin.
Keratin gives structural strength to the hair strand, and collagen makes hair more elastic and less prone to breakage.
Onions contain good amounts of nutrients, including sulfur, vitamins C and B6, calcium, magnesium, and potassium. These nutrients may collectively improve hair health by: (3)
Reducing scalp inflammation
Boosting blood circulation in the scalp
Invigorating hair follicles
Regenerating hair growth
In a 2002 preliminary clinical research study, onion juice was found to be more effective in treating alopecia areata in comparison with tap water when used twice a day for 8 weeks. (4)
However, the medicinal effectiveness of onion in treating alopecia does not have sufficient scientific proof. More comprehensive studies involving a larger population of human subjects are needed.
Raw honey is a common ingredient of various home remedies, and using it with onion juice can solve the problem of dry, brittle, and dull hair by providing it with deep nourishment. (5) The result varies from person to person.
Safety Warning
Honey and onion can be found in almost everyone's kitchen and are used regularly. However, at times, their dermal application may trigger adverse reactions in some people. If you have sensitive skin, direct contact with onion may lead to an allergic breakout or even eczema.
Cutting red onion releases sharp, pungent fumes that cause tearing and redness in the eyes. This irritation usually subsides in a few minutes, but if the problem persists for a long time, you should avoid further exposure to an onion.
Although honey is said to be very gentle on the skin, raw honey can trigger allergies in some people as it contains pollen. If you experience any health issues after applying honey, avoid using it in the future. (1)
Caution: Before applying honey and onion directly to your scalp, do a patch test first to rule out any allergic reactions.
Final Word
Among all the home remedies recommended for hair fall, onion juice has emerged as one of the most popular. Its high content of sulfur, flavonoids, and antioxidants has been clinically suggested to work for the reversal of hair loss by revitalizing hair growth.
But this scientific evidence is too weak to establish its efficacy. Nevertheless, onions are easily available, and their juice can be applied in a fairly simple way.


Read Further on Onion and Hair Health
Here are a few more onion and hair related articles in this series:
Was this article helpful?