Stress is the body's physical and mental response to any event in the environment, which can be positive or negative. Good stress is called eustress (pronounced you-stress), which is the physical and emotional response to events that can make people feel excited.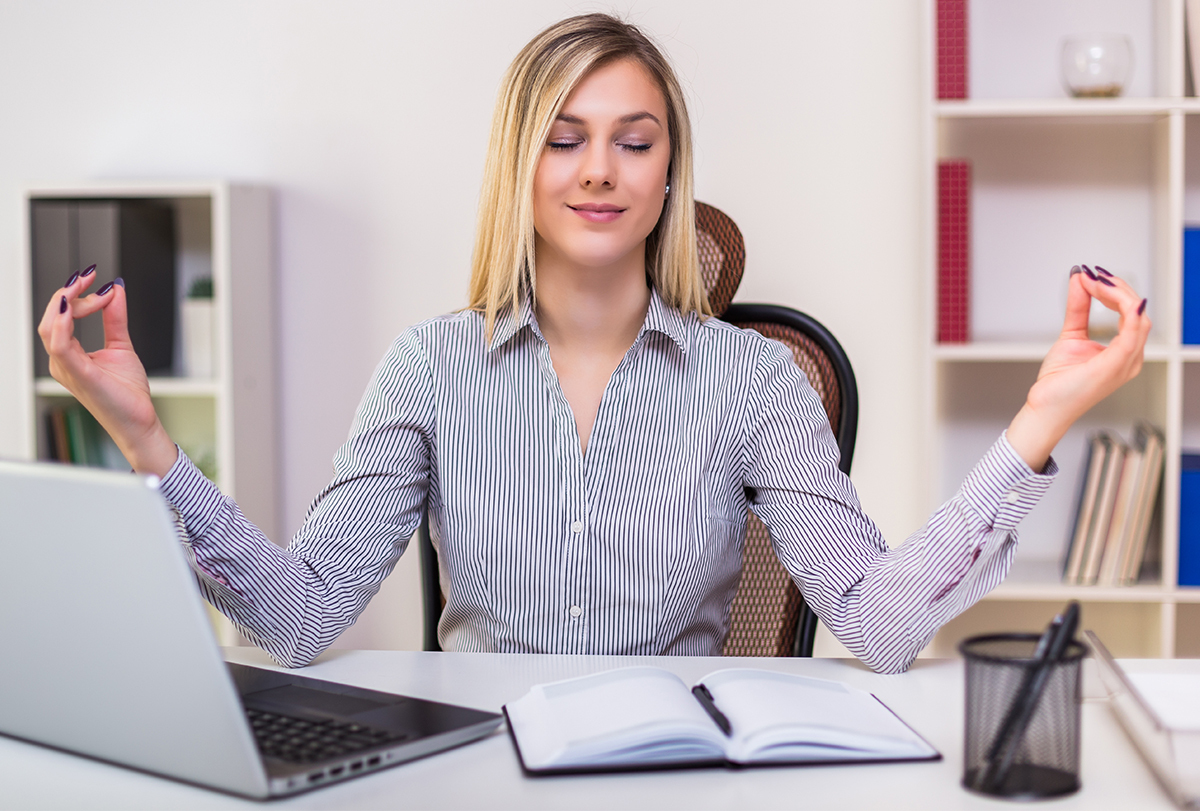 Office stress can be a good thing in small amounts, such as getting a promotion or starting a new project. However, prolonged work-related stress can lead to burnout, which includes exhaustion, cynicism, and inefficiency.
How to Identify Work Stress?
Warning signs that your work-related stress is getting to you:
Difficulty sleeping
Always thinking about work
Poor boundaries at work (i.e., poor work-life balance)
Putting work before physical health (i.e., delaying doctors' appointments for work)
Difficulty concentrating
Feeling anxious, depressed, irritable
Less interest in work
Use of alcohol or other substances
Major Stressors That Lead to Burnout in the Workplace
Various situations, environments, and personal factors contribute to stress in the workplace. Stressors can include external pressures such as:
Financial hardship
Recent layoffs
Administrative changes at work
Previous mental health concerns
More specifically, research points to the following direct causes of burnout in the workplace: (1)
Work overload: When workers have too much work to complete or not enough resources to complete tasks assigned to them
Lack of control: When workers are so overworked, impeding their work-life balance and taking away their autonomy for decision making
Insufficient rewards: When workers are not being rewarded or acknowledged for their work
Breakdown in the community: Poor relationships at work
Absence of fairness: When people feel they are not being treated fairly
Value conflict: When people's personal values conflict with the organization's values
The Effects of Office Stress on Mental Health and Productivity
Office stress can have numerous effects on mental health. Positive effects of eustress can include the excitement of earning a promotion and experiencing growth through learning and mentorship.
Office stress can contribute to feeling overwhelmed with current work. When stress is prolonged, there can be negative mental health effects, including:
Irritability
Inability to focus
Fatigue
Lack of motivation
All these factors can contribute to burnout in the workplace. (2)
Tips to Reduce the Toll of Work Stress on Your Home Life
With technology, it can be difficult to turn off work mode and switch to life mode, especially when work emails and calls are coming through on personal phones.
Checking work e-mails and updates first thing in the morning and the last thing before going to bed at night can consume your mind and interfere with your sleep. Poor sleep will only diminish your overall health and productivity.
Many professionals have difficulty taking breaks from work during vacation time, and it is helpful to be unplugged from work to be able to better engage with work when you return to the office.
One of the most helpful ways of coping with office stress is creating boundaries to enable work-life balance. You can do so in the following ways:
Turn off notifications for e-mails and applications related to work so that you are able to focus on other important areas of your life.
Keep work-related technology/gadgets outside of the bedroom.
Leave your work technology in another room during dinner and family time.
Set automated emails scheduled for the evenings and weekends to let others know you will respond to emails during business hours.
Stress-Busting Exercises to Do at Your Office
Work stress can be reduced through a healthy lifestyle, including eating well, exercising, spending time with loved ones, and participating in meaningful activities.
At work, it can be helpful to take periodic breaks throughout the day, to take walks, and practice deep breathing or mindfulness exercises. (3) It is also helpful to reach out to a local mental healthcare provider for professional support if you feel too overwhelmed to manage the stress on your own.
How to Prevent Stress in the Workplace?
It may be impossible to completely avoid work-related stress, but you can definitely reduce its toll on your health by managing it better.
Having strong relationships at work and outside of work is helpful for obtaining support in stressful situations. Here are a few things you can do:
When it feels like there is too much work to complete, it can be helpful to ask for help to finish tasks.
Seek out managers to ask for more time or adequate resources to complete the work.
Eat lunch with others and ask about coworkers' interests to develop a sense of community and camaraderie at the office. (4)
The Importance of Diet in Stress Management
Work stress often creates unhealthy eating patterns since it leaves no room in your mind and schedule to worry about your health. For instance, it can be easy to start the day with 2 cups of coffee, grab a bag of chips or junk food from your desk, grab fast food for lunch, and then microwave a frozen meal at home for dinner.
Although these choices can be time-saving strategies, a long-standing pattern of unhealthy eating can exacerbate stress in the long-run. Conversely, eating a generally healthy and balanced diet can help reduce stress. Healthy habits take time to become routine, so it is helpful to set SMART.
SMART goals are small, measurable, attainable, realistic, and time-bound. (5) It can be helpful to set a small goal, such as setting your alarm 10 minutes earlier than your regular wake time so that you have extra time to eat a healthy breakfast or prepare a healthy snack that you can pack for lunch.
At the end of the week, it is important to review how far you achieved your goal and adjust your future smart goals and choices as needed.
For obtaining a specific diet, it is helpful to reach out to a local dietitian or nutritionist who can help you come up with a suitable eating plan that meets your individual health needs.
Self-Care Tips to Reduce Office Stress and Improve Work Efficiency
Whether you are working in an office or from home or have a multitude of responsibilities unrelated to work, it can be tough to make space for self-care in your daily schedule.
A routine of self-care is important for coping with work-related stress as well as other stressors in your daily life.
1. Mindfulness can be a helpful strategy
Mindfulness can be a helpful strategy to help you refocus, specifically at work. One of my favorite mindfulness exercises is asking myself, "Where are my feet?" Then I focus my awareness on my feet and give myself a few minutes just to notice.
This is a strategy that can be practiced discreetly, without other coworkers knowing. There are many different types of mindfulness exercises that can be helpful!
2. Take short breaks throughout the day
Take short breaks throughout the day to combat the fatigue and monotony of sitting in front of a computer all day.
It may initially sound counterproductive to stand up to take a walk. However, stepping away from work for 10–15 minutes can be a helpful coping tool for ultimately refocusing and maintaining productivity. (6)
If you have extra time during a lunch break, go for a walk outside, if weather permits, instead of quickly returning to the office.
3. Get adequate sleep
Sleep is another important factor in maintaining work efficiency. When large projects and deadlines are looming, it can be tempting to stay up late to continue working.
However, adults generally need between 7 and 9 hours of sleep each night, and when work begins to interfere with sleep, burnout can begin to occur.
4. Consult a medical healthcare professional
Meet with a licensed mental healthcare professional to discuss specific coping strategies that will be helpful for your life.
Final Word
Job-related stress can push you to do better, so long as it is well under control. But everyone is made different, and some people may not work well under constant pressure. Moreover, some people develop a tendency to stress out about every little thing concerning work, which can be seriously debilitating.
If you let the stress overwhelm you, not only will it diminish your productivity but also harm your physical and mental wellbeing. Thus, getting unnecessarily worked up about work will keep you from performing your job to the best of your abilities.
So, it's truly a "lose-lose situation," one which must be avoided if you wish to fulfill your career goals. If you let your work stress get to you too much, it can spill over into your personal life as well.
Living with this constant tension can blind you from the good things in life, and keep you unduly occupied with work alone while neglecting your family, friends, and social life. Remember, your job is a necessary part of your life, but it's not the end be-all and end-all of life.
Was this article helpful?