Depression is a multifaceted condition that affects different people differently. Thus, there is no one-size-fits-all strategy to overcome this complex problem. What works for one may not work for others.
Thus, you have to work closely with your doctor to develop a customized treatment plan that addresses your specific needs and concerns.
General Treatment Guidelines for Depression
Coping techniques may vary from person to person, but the following guidelines apply to anyone who is struggling with depression:
1. Educate yourself about depression
It is important for the patient as well as caretakers to understand the various aspects of depression. Knowing what you are dealing with helps you handle the condition better.
It dispels the myth and misinformation and equips you with the facts. It helps you make sense of your otherwise confusing and overwhelming mental and emotional state. Learning about depression gives you the clarity and confidence needed to face the long struggle ahead, thus making it the first step toward recovery.
2. Try different treatments to find the most suitable one for you
Depression can mean different things to different people, and its treatment also varies accordingly. You have to be patient and open to experimenting with new therapies and interventions.
Needless to say, you must keep your doctor in the loop before trying any new treatment to make sure it does not prove counterproductive.
3. Do not rely on medications alone
Taking antidepressants at the slightest sign of trouble can make you utterly dependent on these meds, which is neither good for your body nor your general well-being.
Thus, you should look for alternative therapies that include lifestyle changes and exercises to relieve depression. This is not to say that you should skip your medications or do away with them completely, but to take them only in the prescribed dosage along with other supportive measures.
4. Seek social support
Depression can isolate you from others, which only makes the problem worse. It is important that you cultivate a social life and push yourself to go out and interact with others.
This kind of forced socialization can be a hard task when you are in the throes of depression, but it is often just the thing you need to pull you out of your slump. It seems daunting at first but can be quite rewarding in the end.
5. Reach out to friends, family, or support groups
Depression can be a lonely battle, but it does not necessarily have to be that way. Communication is key to vent and process what is going inside your head.
You should share your feelings and concerns with loved ones to feel a little light. If you are worried others will not understand what you are going through and judge you for it, you can join support groups that include people who are in the same boat as you.
6. Understand that treatment takes time and commitment
You may have to wait a long time to find a suitable treatment and then for the treatment to produce visible improvement in your condition. It is extremely important that you stick to the treatment for its intended course, instead of giving up midway.
Depression can take a toll on your mind and it is hard to fight the added frustration, but think about the bigger picture whenever you feel disheartened.
These pointers should be kept in mind before starting treatment to get the best results.
Medical Treatment for Depression
The following interventions can help in the treatment and management of depression.
1. Psychoeducation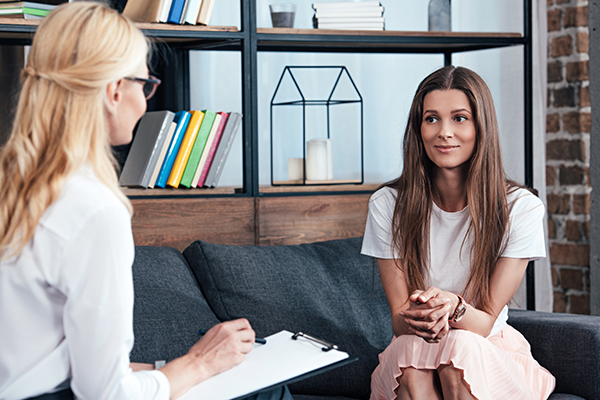 Educating the patient, their family, and other members of their social support network about depression can be quite helpful. This includes knowledge of its symptoms, causes, and methods to handle and cope with depression.
The therapist or doctor may also discuss additional risk factors that may make the patient more susceptible to depression.
Psychoeducation can have a significant impact on a patient's ability to better understand their depression, identify its symptoms, increase self-awareness (i.e., insight), and positively affect their own mental health outcomes. (1)
2. Medications
Medications for treating mental disorders such as depression are often prescribed by specialists known as psychiatrists.
Drugs given for depression help restore the balance of neurotransmitters in the brain and are known as antidepressants, which include:
Selective serotonin reuptake inhibitors (SSRIs): These drugs prevent the reabsorption of serotonin so that the levels of this neurotransmitter, which is also known as "the feel-good hormone," can increase.
Serotonin-norepinephrine reuptake inhibitors (SNRIs): These drugs block the reuptake of serotonin and norepinephrine. Norepinephrine is a chemical that works as both a stress hormone and a neurotransmitter. SSRIs include duloxetine, desvenlafaxine, and venlafaxine.
Reversible inhibitors of monoamine oxidase-A (RIMAs): These drugs inhibit the breakdown of serotonin, norepinephrine, and dopamine so that the brain produces more of these chemicals that can work as antidepressants.
Tricyclic antidepressants (TCAs): These drugs block the reuptake of serotonin and norepinephrine in the brain. They also block muscarinic M1, histamine H1, and alpha-adrenergic receptors. These drugs generally cause more side effects than the newer antidepressants.
Therapies That Can Help
Patients may also be recommended different evidence-based individual therapies to combat their depressive symptoms. These therapies include:
1. Brain stimulation therapies
If psychotherapy or medication is not effective, brain stimulation therapies can be used. These include:
Electroconvulsive therapy (ECT): It is commonly used for patients who suffer from depression, bipolar disorder, or suicidal thoughts and who typically do not respond well to medication. Many individuals begin to notice symptom improvement after about six sessions, a quicker reaction time than that of medicinal interventions. A course of ECT can be up to 12 sessions long.
Transcranial magnetic stimulation (TMS): It is a noninvasive method that employs magnetic energy pulses to treat severe depression. Magnetic energy is directed to the brain regions that affect mood. These magnetic pulses pass through the skull and stimulate the brain cells. This therapy helps improve the connection between different parts of the brain and thus helps relieve the symptoms of depression.
Deep brain stimulation (DBS): It involves implanting electrodes into a specific brain region (e.g., nucleus accumbens) responsible for mood regulation. The electrodes are then joined to a pulse generator that controls the stimulation and is implanted in the subcutaneous layer of the chest. (2)
2. Light therapy
Light therapy uses specially designed fluorescent lights to help improve symptoms of depression. It is suggested that light therapy alters the levels of certain chemicals in the brain, especially melatonin.
A meta-analysis revealed that light therapy could be effectively used for patients with non-seasonal depression. A significant number of patients responded to the therapy, which had no considerable side effects. Therefore, it may be considered as an additional therapeutic intervention for treating depression. (3)
3. Cognitive-behavioral therapy
Cognitive-behavioral therapy (CBT) is directive in nature and focuses on changing maladaptive thought patterns and behaviors so that the individual has a more balanced view of themselves and others. It is often used to treat depression.
CBT techniques are best learned from an experienced therapist. It is important to continue using the skills (e.g., new ways of thinking about conflicts and the effective use of adaptive coping strategies) developed in therapy even after the treatment to help prevent the recurrence of symptoms.
A meta-analysis concluded that CBT should be the first-line treatment for patients with non-severe forms of depression only. However, recent clinical trials demonstrated its effectiveness in treating severe depression as well, giving results similar to those of medications for adults. (4)
Additional Treatment Options
In some cases, the use of supplements may also aid in the treatment of depression.
1. Omega-3 fatty acids
Omega-3 oils or n-3 polyunsaturated fatty acids (n-3PUFAs) can be beneficial for patients with major depression. These fatty acids are generally found in some nuts, seeds, fatty fish, and other seafood. This claim was supported by a meta-analysis conducted in 2019. (5)
2. SAMe
S-Adenosyl-L-methionine (SAMe) is a chemical that is naturally present in the body and is also sold as a dietary supplement. Depressed patients have been found to have abnormal levels of SAMe, supporting the recommendation for SAMe supplementation.
A randomized clinical trial in 2017 demonstrated that the effectiveness of SAMe supplements might vary with gender, with a greater effect, observed in males. (6)
3. St. John's wort
Scientifically known as Hypericum perforatum, St. John's wort contains the active compounds hyperforin and hypericin, among others, which can potentially improve mood in a similar way to antidepressants. St. John's wort is generally sold as a dietary supplement.
A meta-analysis in 2016 demonstrated the efficacy of St. John's wort in treating mild to moderate depression. (7)
Most-Asked Questions About Depression
Is depression curable?
There is no cure for depression, but various treatments are effective in helping people with their depression, thus enabling them to live fully functioning lives.
Is depression considered a disability?
Depression is not considered a disability on its own. However, it has been shown that people who have a physical disability are at a higher risk of developing depression because of the challenges and stresses they face daily.
Additionally, individuals with learning disabilities are more likely to develop depression than the general population.
Once treated, can depression recur?
While minor cases of depression can be treated at once, severe depression can often recur in around 50%–80% of individuals. Therefore, it is recommended to continue treatment for a few months even after the symptoms resolve.
It is important to identify any risk factors, such as stress and negative thoughts, and address them with meditation, therapy, or lifestyle changes to prevent the recurrence of depression.
When to See a Doctor
It is advised to seek medical help if:
You have suicidal thoughts, or you are constantly thinking about death.
You demonstrate behavior that is harmful to your safety.
You are unable to sleep or eat, or you are disinterested.
You experience difficulty breathing.
You are sweating or restless.
Final Word
There is a growing discourse around mental health nowadays, and it is finally getting the importance it deserves. Depression has been plaguing the entire world, but it is only now that people have started discussing it as a legitimate health concern.
Depression is usually a life-long condition that can be managed at best rather than cured. People cope with this overbearing condition through a combination of medication, therapies, counseling, and in-hospital treatments.
Suicidal patients are expected to check in with their doctor for clinical interventions more frequently than non-suicidal ones.

Continue ReadingDiagnosis and Tests to Evaluate Depression
Was this article helpful?